Flying Scotsman Drivers Eye View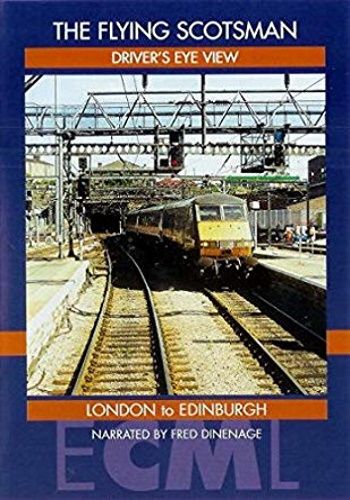 Driver's Eye View: London King's Cross to Edinburgh Narrated by Fred Dinenage
Now you can see virtually the whole of the ECML on one DVD, complete with appropriate menus to allow you to go where you want to, when you want to. Still one of Britain's premier expresses, The Flying Scotsman completes the 393 miles from King's Cross to Edinburgh in just over four hours - an average speed of 94.3 miles an hour!
Highlights: Part One includes the exit from King's Cross with the various tunnels, the infamous Welwyn bottleneck, which brings the ECML down to just two tracks, the Newark flat crossing, (the last in the UK) the Selby new line, and Stoke bank, where "Mallard" achieved the world speed record for steam traction. We even take a look inside the A4 engine now housed within the National Railway Museum at York.
Part Two covers the second leg from York to Edinburgh calling only at Newcastle. Highlights include: Darlington Bank Top avoiding line, the approach to Newcastle - crossing the mighty River Tyne, the notorious curve at Morpeth, the Royal Border Bridge at Berwick, the scenic coastal sections and the approach to Edinburgh Waverley.
NB: Newcastle/Edinburgh section reduced by 40% for time reasons (No features lost).
Running Time: 190 Minutes