Glorious Devon 1958 - GWR/SR Expansion Part 1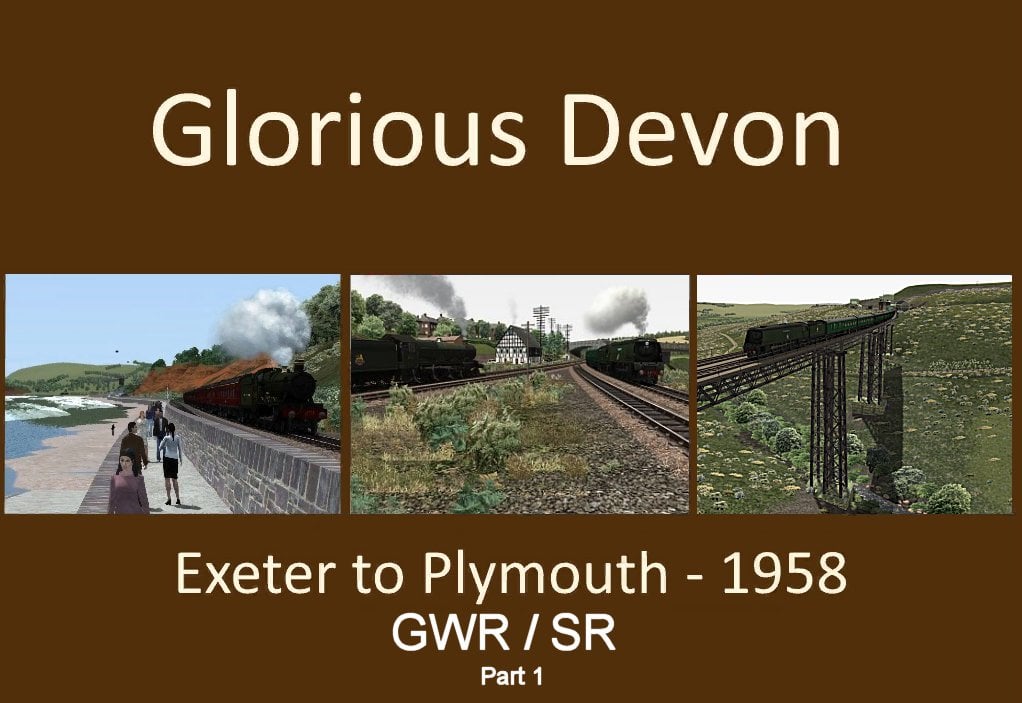 The section of the former Great Western Railway that runs across the South Devon Banks to Plymouth from Exeter and its branch to Kingswear is one of the most famous and picturesque locations in England that has captured many people's hearts. The alternative Southern / ex-LSWR route climbs through farmlands to Okehampton then across northern Dartmoor and down to Tavistock, terminating in Plymouth Friary Station, a scenic but less busy route servicing many small holiday communities in north Devon. GWR and SR would run trains along both routes in order for drivers to familiarize themselves with the branches in case an emergency detour was necessary.

"Glorious Devon" recreates the area as it would have looked in the late 1950's, pre 1964 after which the Beaching changes took effect. Significant research has been undertaken to achieve the closest possible authenticity, recreated in digital, for Train Simulator. It was a period of great transition for Britain's railways, from much loved steam traction – Manors, Halls, Castles and Kings, to early classic diesel hydraulics – Hymeks, Warships and Westerns on the GWR route, along with Bullied light pacifics, King Arthurs, Schools, T9, S16's and many other smaller classes on the Southern portion. Colour light signals were just making an appearance around Plymouth and the diesel shop at Laira was in the first stage of construction. The iconic Intercity House at Plymouth North Road station had yet to be built.

Glorious Devon offers great potential for scenario writing, from local passenger services, to inter-regional expresses to London, the Midlands and beyond. Although the location is predominately rural, freight services were varied too, including coal distribution and fuel for a 40MW power station, livestock, milk, fruit, fish and china clay and ballast. There is much to discover, from rail connected docks to stations long since closed but now brought back to life.

The route comes with several excellent scenarios. Enjoy Glorious Devon!