Rosslare to Dublin Drivers Eye View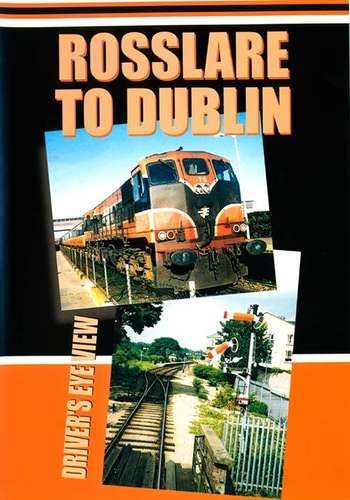 This is one of the most interesting and spectacular routes in Ireland, running up the east coast from Rosslare Europort to Dublin Connolly .
This Driver's eye view was filmed in 2003 when Ireland's extensive Intercity network was exclusively the domain of loco haulage. Just two years later, the line was turned over to DMUs. This records the iconic loco haulage days for posterity.
After running round its train at the long platform adjacent to the ferry terminal, (since cut back) our General Motors class 071 diesel sets off with a rake of BR built Mk 2 coaches. At first the line skirts the coastline alongside the Irish Sea. At Wexford our train slows to walking pace as it traverses the long street-running section alongside the harbour. Turning inland, the line follows the course of the River Slaney offering up further magnificent views from the cab. At the time of filming, there were only three trains a day on this route and we pass one of them at Enniscorthy.
At Wicklow we are back on the coast for a high speed section on long welded track. The overhead wire heralds the start of the Dublin Area Rapid Transit (DART) at Greystones. Soon we encounter the most difficult section to build, at Bray Head. Here the much-photographed tunnels cling on to the side of the sheer rock face. Photographers rarely get the chance to see the tunnels from the driving cab let alone from a helicopter flying alongside. In this production you get to see both views.
Running through Dun Laoghaire (Dun Leary) the Irish equivalent of the Cote D'Azur, we enter the Dublin conurbation. This was the very first railway in Ireland, dating from 1834. Ironically it was built to international standard gauge but later up-converted to 5ft 3ins. Half a dozen or so level crossings close for our passage before we pass through Dublin Pearse station, the original southern terminus, and arrive at Connolly Station in the heart of Ireland's capital.
Running Time: 106 Minutes