Train Simulator: West Coast Main Line Over Shap
One of the UK's most important rail routes and also one of the busiest freight routes in Europe comes to life in the fantastic West Coast Main Line Over Shap route for Train Simulator, from Krossrails.
The first section to open of what is now the West Coast Main Line was in 1837, connecting Liverpool and Manchester to Birmingham, via Crewe, Stafford and Wolverhampton. Over subsequent years, other branch lines along the East Coast opened, with the final sections of what is now the WCML opening in the late 1800s.
The WCML competed fiercely with the rival East Coast Main Line, operated by the London and North Eastern Railway, for London to Scotland traffic. Nicknamed the Race to the North by British newspapers, attempts were often made to reduce journey times between London and Glasgow, which saw the route host such famous locomotives as the Princess Coronation Class.
Modernisation by British Rail in 1955 saw the line upgraded and electrified in stages between 1959 and 1974. Full electrification of the line heralded the introduction of BR's InterCity brand, drastically cutting journey times along the route. New style passenger coaches were also introduced and many stations demolished and rebuilt to accommodate faster and longer trains, paving the way for the West Coast Main Line that operates today.
West Coast Main Line Over Shap represents the 90 mile section from Skew Bridge Junction (Preston) to Carlisle Upperby, and on to Dumfries via Gretna Junction, set in the BR blue period of the 1970s.
An important interchange for services to and from Manchester, Bolton and Blackpool, Preston is considered to be the approximate half way point between London and Scotland, therefore is the point of crew changes on services running along the route.
On departure, the route run through the northern industrial and suburban areas of Preston, passing the Church of St Walburge, a significant landmark in the city, and under the M55, before entering open countryside. Crossing impressive viaducts and through high embankments, the route passes through Lancaster, at which point the branch to Morecambe Bay heads westwards and the WCML passes the coast at its closest point.
Brushing the edge of the Lake District, northbound trains are soon faced with the steep five mile (8km), 1:75 incline from Tebay over Shap, a challenge still for heavy freight trains and steam charters. The summit at Shap Quarry is 916ft above sea level and is the highest point on the English section of the West Coast Main Line, and limestone and aggregate workings are still aplenty on the hills around Shap.
The gentle run down to Carlisle follows the River Leith and past a number of old village stations that have long since closed. Carlisle itself remains a major rail hub and interchange for services coming off the Settle and Carlisle line, the Cumbrian Coast, the Tyne Valley and the former Glasgow and South Western Railway route to Glasgow via Dumfries.
Impressive viaducts, lost stations and numerous branch lines are aplenty on this stunning route, developed by Krossrails. Ministry of Defence facilities at Longtown, Smalmstown and Eastriggs are also included on the route, alongside various depots and yards, the Morecambe and Heysham branch lines, Maxwelltown Branch west of Dumfries, and a number of prominent landmarks along the route. New to this route are also neutral sections between power districts, replicating real-life situations, as well as accurate braking which is affected by the length of the train.
Rolling stock is also in abundance, including a BR Blue Class 87, BR Blue and BR Large Logo Class 47, Mk1 RMB and BG, Mk2 BR blue/grey and Mk3 BR blue/grey passenger coaches, FSA/FTA container freight wagons, HAA hoppers, OAA open wagons, PCA tankers, PGA hoppers TTA liquid tanks and YGH hoppers.
Includes:
90 mile West Coast Main Line route from Preston Dumfries, via Carlisle Upperby
Morecambe Branch, Heysham Branc and Maxwelltown Branch lines
Variety of freight depots and yards
Neutral power sections throughout the route
BR Blue Class 87
BR Blue and BR Large Logo Class 47
Mk1 RMB and BG passenger coaches
Mk2 BR Blue/Grey passenger coaches
Mk3 BR B lue/Grey passenger coaches
Assorted freight wagons, including FSA/FTA container freight wagons, HAA hoppers, OAA open wagons, PCA tankers, PGA hoppers TTA liquid tanks and YGH hoppers
16 Scenarios for the route
Quick Drive compatible
Train Simulator: West Coast Main Line Over Shap Repaints
Here at DPSimulation we currently host repaints of the Class 87 and Class 47 locomotives that are included with WCML Over Shap, these depict both classes in Virgin Trains livery. Both of these repaints can be downloaded by clicking here.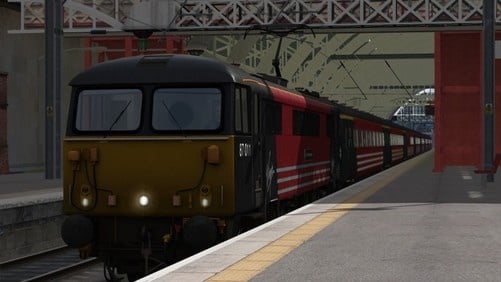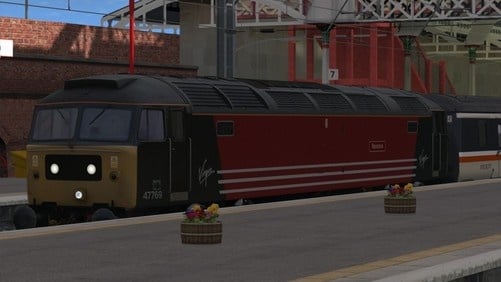 We also currently host several other repaints of the Class 47 locomotive that is included with WCML Over Shap, some of these can be seen in the pictures below. These repaints can be downloaded by clicking here.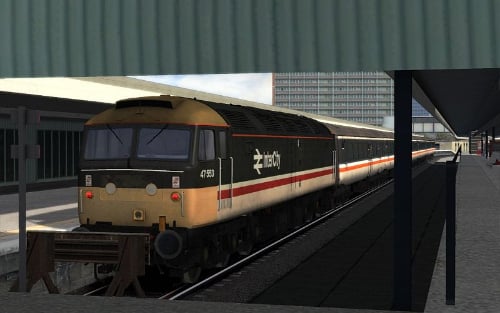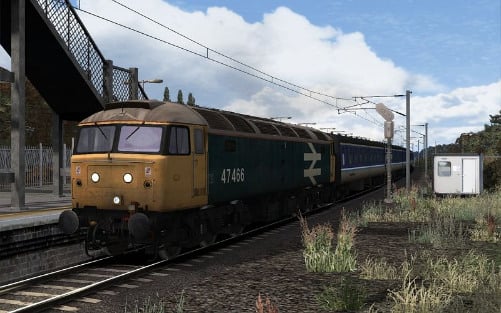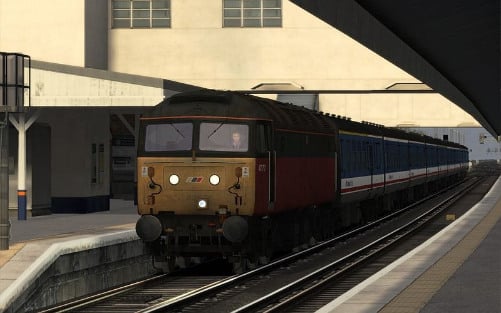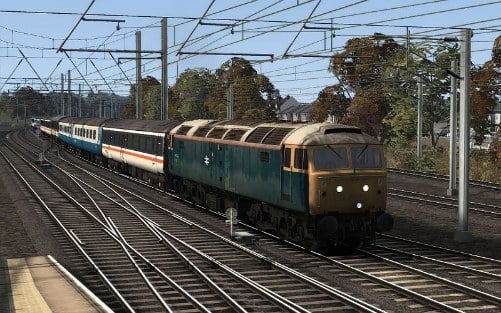 The Royal Scot: London Euston to Glasgow Central Driver's Eye View
A real life driver's eye view video covering this route is also available. Click here for more information.